Glass Home with fold out wooden deck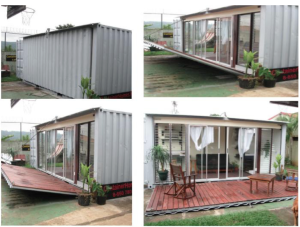 Studio Apartment: $18,000
This home includes a manual door opening system. The giant front deck that opens, as seen in photos is not automatic, nor is is run on electricity. The deck must be lowered manually with a chain-system. Any hydraulic system is extra.
Price includes the following
1. 20 ft Shipping Container
2. Insulation
3. Basic Plumbing
4. Basic Electricity and fixtures
5. Wallboard
6. Two Sliding Glass Doors.
7. Wooden deck.
8. Kitchen (sink, counter, shelves)
9. Bathroom (shower, toilet, sink)
10. Painted Inside/Outside
11. All labor and taxes.