Finally, after several months of beginning and then stopping and then beginning again, it looks like I am close to a move in date. This 40ft HQ container home was never a priority so we took our time building and redesigning as we went.
The photos might say something different though. It might appear that the move in date is far off but I am optimistic that it will be in two weeks.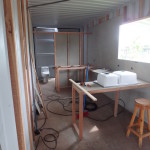 In this photo, the kitchen has all of the electricity and water connected. These are the most difficult parts of the project. Our sink faucet did not fit so I need to make a trip into San Jose to buy a new one. The floor will remain as is, just with some sanding and painting. The window on the far right will be installed next week. We generally our source this type of work.
The below photo shows our bathroom progress. This will be a much larger bathroom than planned. I decided to do the ceramic tile up to the ceiling instead of the traditional 2 meters high. The home will be for one to two people, including an outside deck that extends from the container.
This home will actually go on the market for $25,000. The home will be a complete finished home and be "move-in" ready. The painting will be next week, along with the floor and window installation.
I will post more photos as the work nears completion.